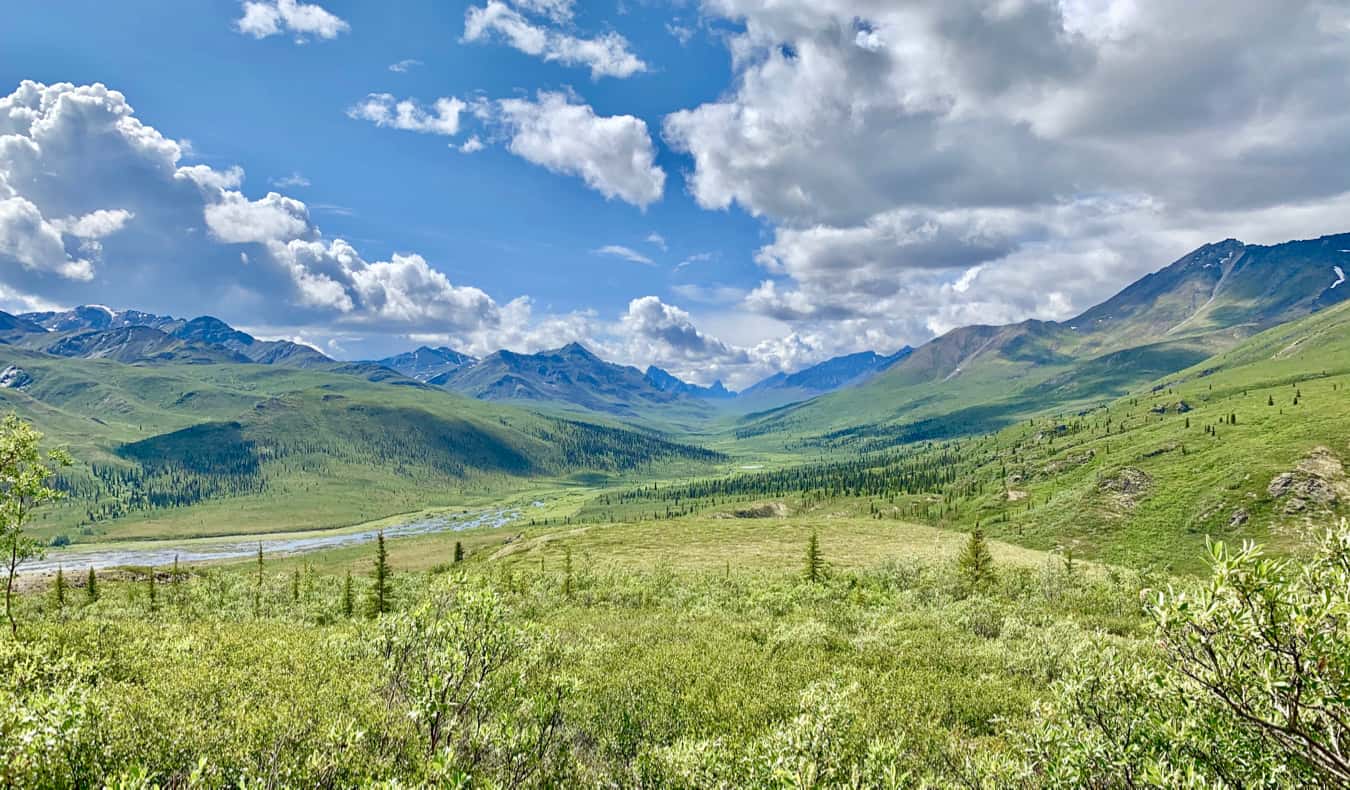 Posted: 11/5/2020 | November 5th, 2020
Canada is home to some of the most pristine and unspoiled landscapes in the world. One of the country's most scenic regions is the Yukon. In this guest post, writer Ethan Jakob Craft shares his tips and advice to help you road trip the region on a budget.
Tucked away in Canada's northwestern corner is the Yukon Territory, a veritable paradise home to just 35,000 people and endless top-notch wilderness. The Yukon is dominated by thick boreal forest in the south and treeless tundra in the north and dotted with rugged peaks and lakeside beaches in between.
I first visited the territory at age 7 as a half-day shore excursion on an Alaskan cruise (yes, the border really is that close), and didn't know what to make of it. But returning as an adult, it blew my expectations away.
Due to its sheer size and limited public transit options, I found the Yukon to be an ideal place for a Canadian road trip. Two weeks is perfect for covering the best of what the territory has to offer by car, taking you to both historic towns and untamed wilderness.
With a little bit of northern know-how, I took a summer road trip there on the cheap, and you can too using this handy guide that includes all of the territory's most famous sights (plus some off-the-beaten-path excitement, too!).

Days 1–3: Whitehorse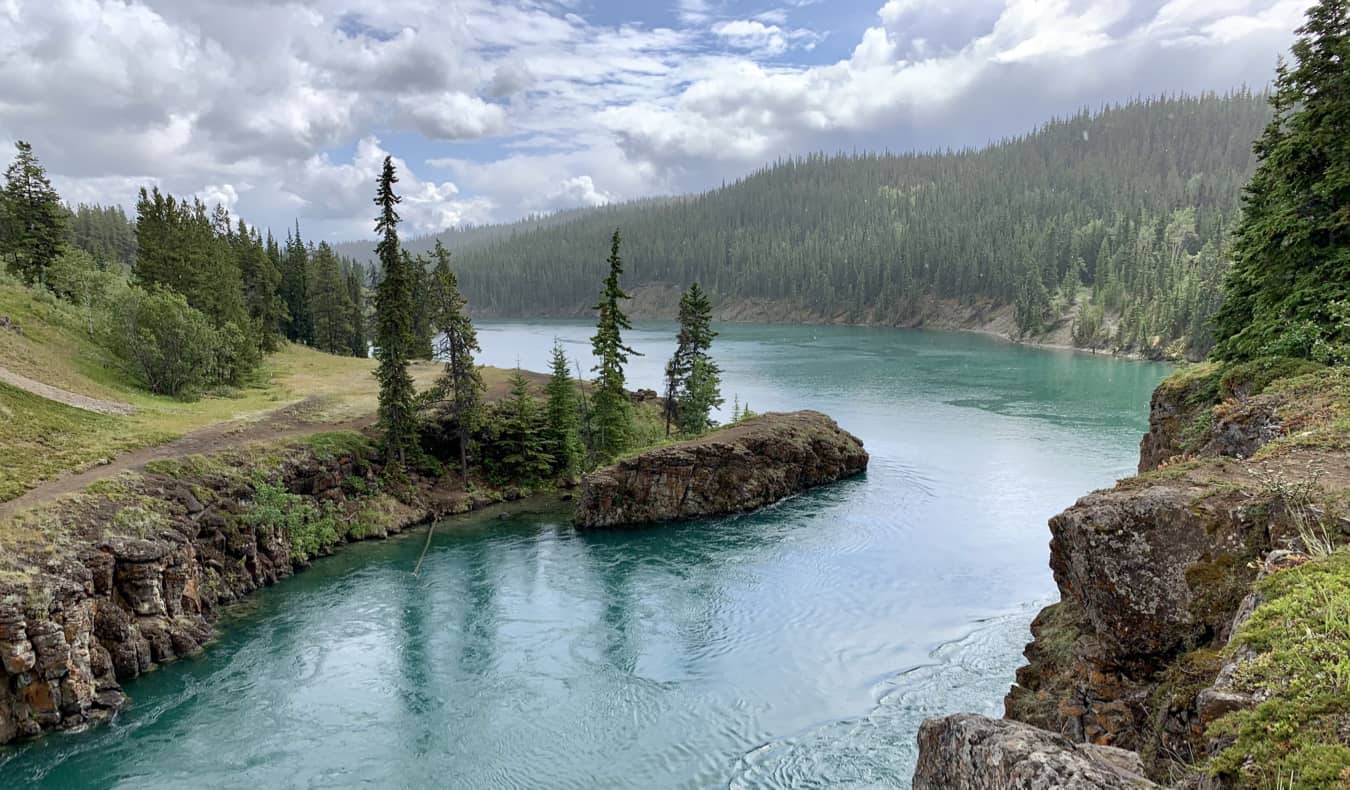 Almost all travelers start their journey in Whitehorse, which is both the Yukon's capital and largest city, accounting for roughly 70% of the territory's total population. All major highways pass through here, most rental car agencies are headquartered here, and its Erik Nielsen International Airport offers direct flights to all over Canada, to Alaska, and even to Frankfurt, Germany.
I'd liken Whitehorse to an Austin or Portland of the North; it's one of the hippest cities I've seen in Western Canada. With three days to enjoy, here are some things to do:
Take in some local history — The four-story MacBride Museum of Yukon History downtown covers every aspect of the territory, with exhibits on the region's wildlife, art, and Indigenous peoples; the Alaska Highway; and the Klondike Gold Rush, to name just a few.
Hike Miles Canyon — South of town, the Yukon River has carved a deep canyon that is now home to a network of hiking and biking trails, all anchored by the Miles Canyon Suspension Bridge. According to almost every local I spoke to, the bright blue water here offers the most scenic view in town!
Eat at the Fireweed Market — If you're lucky enough to be visiting on a Thursday evening in the summer, swing by the territory's largest outdoor market. It's a delicious mix of food trucks, bakers, local artisans, and buskers that gives the markets in Toronto (my hometown) a run for their money. But get here early — some of the locals' favorite treats can sell out quickly.
Train with Iditarod sled dogs — Dog lovers, rejoice! In winter, head to the outskirts of Whitehorse to find a range of local sled-dog champions who are happy to offer kennel visits and training runs with a team of race-ready huskies. And don't worry, you can still visit in the summer (just be ready to race in an ATV instead of a sled). I used Alayuk Adventures near Mt. Lorne and have nothing but praise for Marcelle and her dogs.
Tour the S.S. Klondike — Now permanently dry-docked next to the river it used to ply, this historic touring ship operated by Parks Canada gives you the run-down on the long and haphazard history of Yukon River paddle wheelers, all while onboard one of the largest ones ever built.
Where to stay
Town & Mountain Hotel — Like everything in the Yukon, lodging comes at a premium, though this hotel on Main Street appears to offer a fair deal at all times of the year, as well as free parking and an on-site lounge.
Beez Kneez Bakpakers — The only true hostel in Whitehorse, Beez Kneez is full of perks, including free Wi-Fi, free coffee, laundry service, and a full kitchen.
Tip: Get gas before leaving major population centers. Not only can it be up to 50% more expensive at smaller stations in the backcountry, but you don't want to risk running out of fuel in the Yukon wilderness. In the far north, you can drive hundreds of miles between gas stations, so fill up wherever you can.

Days 4–5: Dawson City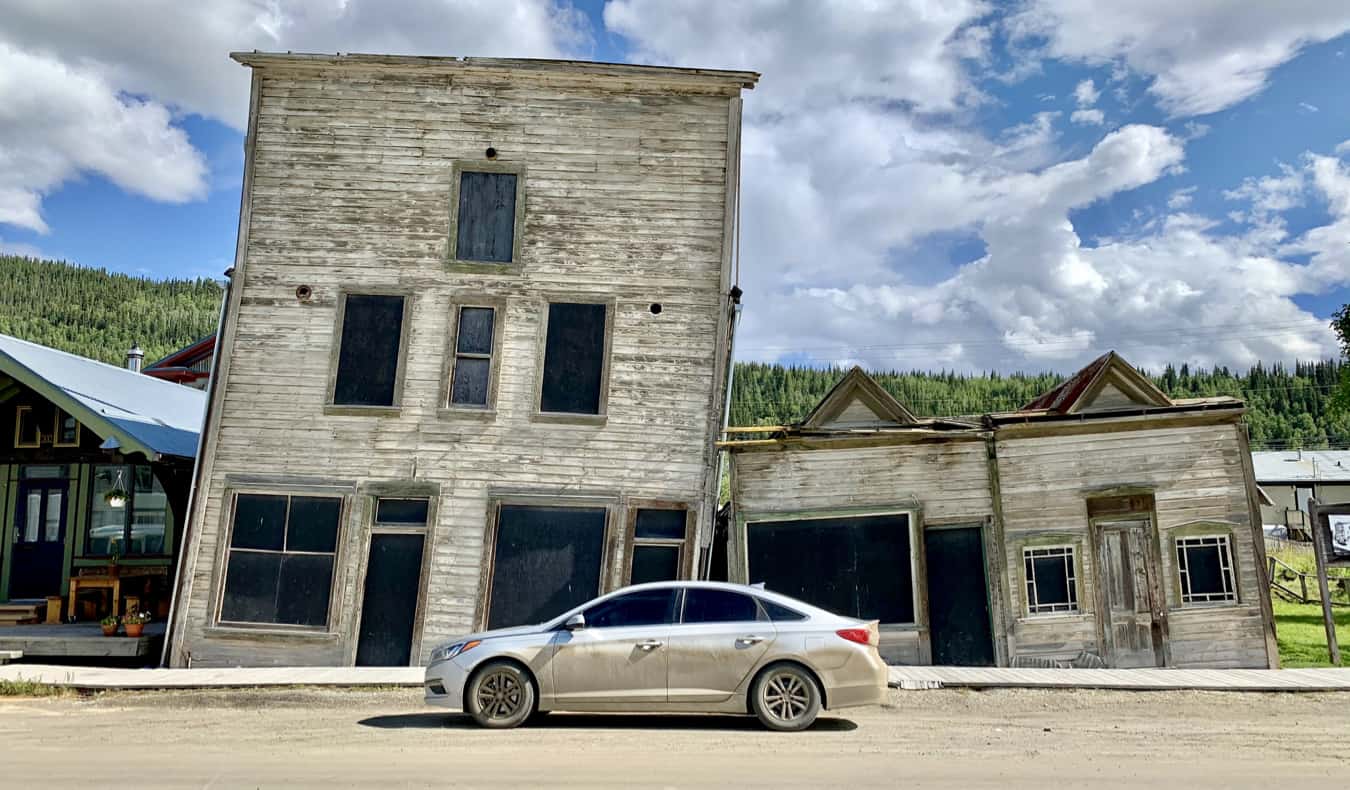 At the height of the Klondike Gold Rush in 1898, Dawson City boasted a population higher than the entire Yukon Territory has today. It's a textbook boomtown and has preserved its heritage well, maintaining its authentic dirt roads, wood plank sidewalks, and turn-of-the-century buildings.
The drive to Dawson City can be done in as little as five hours from Whitehorse, but that's without accounting for the numerous viewpoints, roadside hikes, and likely construction delays en route.
Here are a handful of things I'd recommend during your first of two stays in Dawson:
Drink the Sourtoe Cocktail — This is the quintessential Dawson City activity. The rules for this drink are simple: head to the Sourdough Saloon, order a shot of Canadian whiskey, and down your drink with a mummified human toe in it. And remember: "You can drink it fast or you can drink it slow, but your lips must touch the toe!"
Visit Dredge No. 4 — South of Dawson City lies the largest gold dredge ever built, a floating fortress that now preserves the gold mining history of the Klondike. It's recommended to reserve a tour in advance, as it can fill up quickly in peak season.
Pan for gold — While there are a number of tourist traps throughout the Yukon that offer gold panning in stocked troughs, Claim No. 6 is the real deal. Registered by the government for public use, this stretch of Bonanza Creek near Dredge No. 4 is about as genuine as you can get. I didn't find any gold nuggets there, but I did snag some gorgeous quartz and polished stones. Be sure to pick up a free gold pan from the Dawson City Visitor Center before you set out!
Drive to the Midnight Dome — On a hill above town, travelers can find a scenic overlook providing a sweeping view of Dawson City and the surrounding valley. You have two options to get there: a winding road around the mountain, or a very steep hike from downtown.
Where to stay
Downtown Hotel — This property is one of the cheapest in town, and offers perks for guests. When I checked in, I got 2-for-1 drink coupons at its bar (the famed Sourdough Saloon) and a discount at the in-house Jack London Grill.
Dawson City River Hostel — Situated in West Dawson, this is the northernmost hostel in Canada! Long a hit with backpackers (especially Europeans), it offers dorms, private rooms, a sauna, and even free bicycle parts. No credit cards.
Days 6-8: The Dempster Highway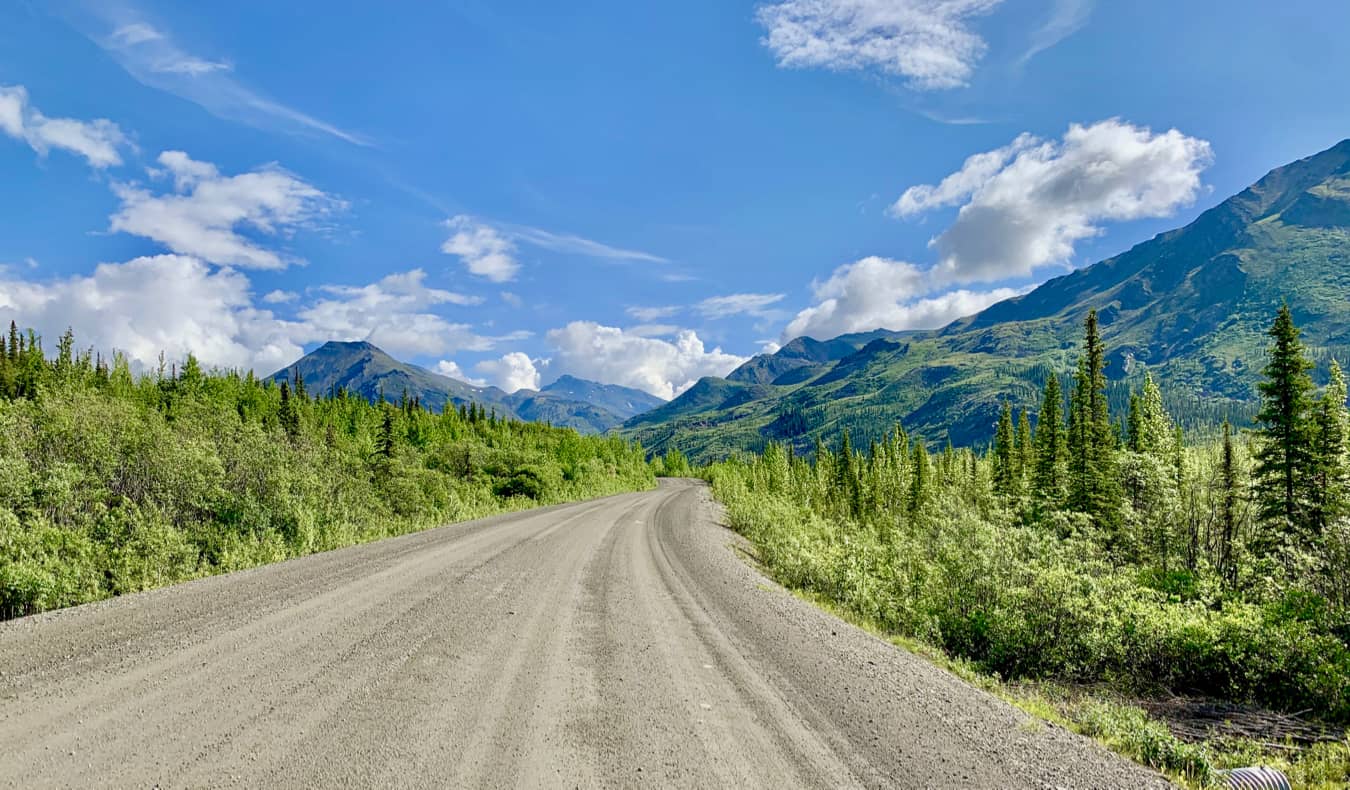 Now the real adventure begins. You'll find the start of this 571-mile highway twenty minutes east of Dawson City, taking you all the way from the Yukon's interior to the Arctic Ocean in the Northwest Territories.
The Yukon portion of the highway runs for about 300 miles (482km) through the Tombstone mountain range and endless pristine wilderness, crossing the Arctic Circle. While the drive was tough on both me and my vehicle, the sights and experiences along the way were worth it:
Hike Tombstone Territorial Park — I think the most striking scenery on the Dempster Highway can be found just an hour into the drive, where you can enjoy jagged mountains and snaking rivers in this no-fee, off-trail territorial park. I stopped by the Visitor Center at kilometer 71 for all the information I needed.
Stand on the Arctic Circle — There's no better photo op to prove you experienced the True North than standing on the Arctic Circle, 30 minutes north of Eagle Plains, the only settlement in the area. Soon after, the tree line ends and you'll be driving through barren tundra.
See the Midnight Sun or Northern Lights — Depending on the season, you will likely be far enough north to see either 24-hour darkness and the aurora borealis, or 24-hour daylight when the sun never sets. Bring a flashlight or an eye mask accordingly.
Watch wildlife — Black bears, marmots, foxes, moose, eagles, and herds of caribou so dense they darken the tundra are just a handful of the animals you might encounter on the Dempster Highway. Personally, I saw more wildlife on this stretch of road than I did in the rest of the territory combined. Binoculars are encouraged!
Tip: Prep your car! I cannot stress this enough: the Dempster Highway will batter your car, no matter how rugged it is. Axle-snapping potholes, shredded tires, and broken windshields are not uncommon. At best, you'll get away with a layer of inch-thick mud. Experienced truckers recommend having at least one full-size spare tire, road flares, a satellite phone, and a 4×4 vehicle (though I did it with no issues in a four-door sedan). Check road conditions here.
Where to stay
Eagle Plains Motel — This place isn't cheap, but it is clean, warm — and your only lodging option for 250 miles in either direction.
Camping — The Yukon government operates a handful of self-register campsites for both tents and RVs along the Dempster Highway. All government campgrounds are cash-only, but they are inexpensive and operate on the honor system.
Note: If you're renting a car for your Yukon trip, make sure you are allowed to take it on the Dempster Highway — and any other unpaved roads, for that matter. Due to the route's rough nature, some rental agencies charge an additional fee for Dempster driving, while others ban it outright.

Days 9–10: Dawson City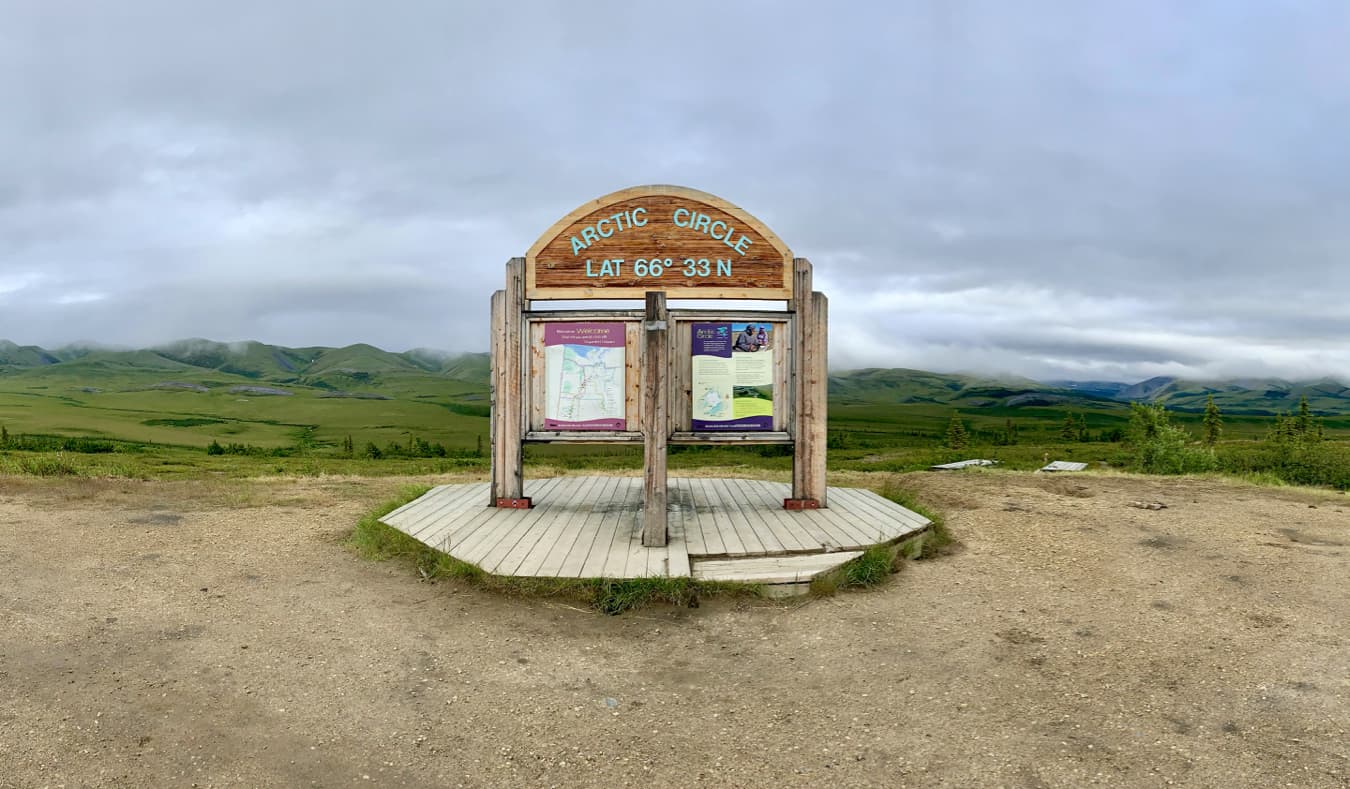 After a few days on the Dempster Highway, nothing felt better than returning to paved roads. While Dawson City is small by any standard, with just roughly 1,500 residents (it's not even legally a "city" anymore), there is plenty to do here to occupy four days, broken up into two two-night segments. Upon your return to this historic town, here are some activities to make the most of your stay:
Check out the Dawson City Firefighters Museum — Located at the north end of town, this by-donation museum houses more than a hundred years of Dawson City's firefighting history. It's overseen by a former local fire chief who gave me a very personal guided tour of the old trucks he once drove and the blazes he put out.
Have a drink at Bombay Peggy's — To celebrate the end of your Dempster Highway adventure, head for Bombay Peggy's. It's a fully restored brothel that serves the best mixed drinks and martinis in Dawson, according to every local I spoke with. And see if you can find out how Peggy got her nickname!
Explore the "Paddlewheel Graveyard" — Along the riverbank in West Dawson, nearly a dozen paddlewheel ships from the early 1900s have been wrecked on the beach, offering photographers and urban explorers the chance to see some unique Yukon ruins. But don't make my mistake: bring waterproof shoes if you have a pair.
Press your luck at Gertie's — There's not a person in Dawson who won't point you to Diamond Tooth Gertie's Gambling Hall for a night of fun. Whether your vice is the casino (like me), the bar (like me), or the nightly can-can dance shows, there's something for everyone under Gertie's roof.
Where to stay
The Bunkhouse — Centrally located, this historic hotel has free parking, the fastest Wi-Fi I used in the Yukon, and, if you're really on a tight budget, smaller private rooms with shared bathrooms.
Camping — Take the free 24-hour ferry over to West Dawson and pitch your tent (or park your RV) at the Yukon River Campground. It's first-come-first-served, but because the site is one of the largest campgrounds in the territory.
Day 11: Faro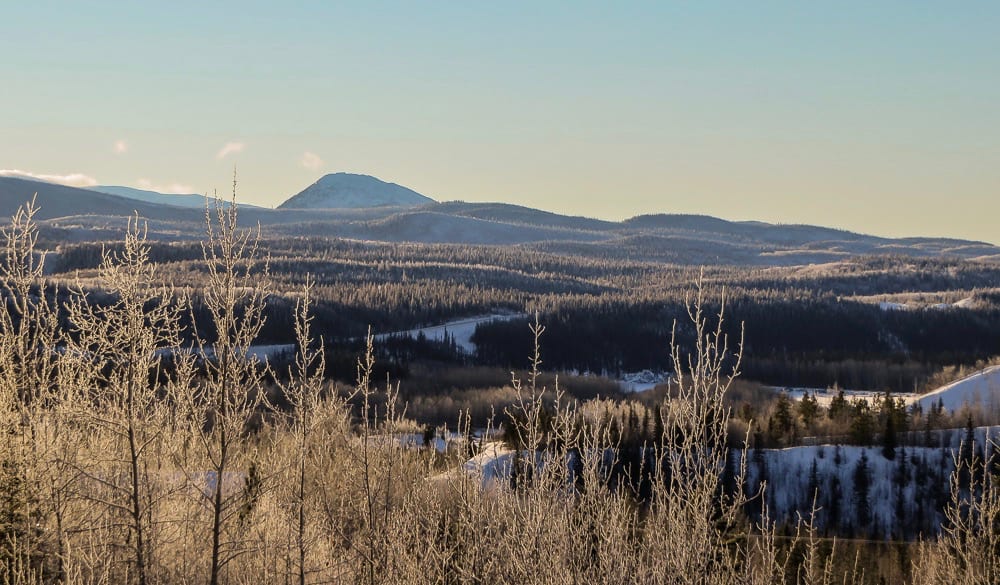 Due to the sparse layout of highways in the Yukon, road trips here can involve a lot of backtracking. But don't worry, there's a little-discussed secondary route that eventually leads back to civilization: the Campbell Highway.
Cutting through some of the most unspoiled scenery in North America, this road is arguably more remote than the Arctic Dempster Highway — and depending on weather conditions, it can be even more of a challenge.
After a long day's drive in the backcountry, your best choice is to overnight in Faro, a small mining community named after a card game. Here are some things to check out:
Visit the Campbell Region Interpretive Centre — There's no better place to learn the backstory of the Campbell River region and its eponymous explorer than this small-town museum and visitor center, located in the heart of Faro.
Golf — Despite a population of just a few hundred residents, the layout of tiny Faro is unique, because there's a nine-hole golf course running right through the middle of town. For an afternoon of fun, rent a set of clubs and hit the links at the Far North's quirkiest green.
Play the lottery — Once known for its zinc mining, the Faro of the 21st century has a new claim to fame: selling a $25 CAD million winning lotto ticket, the largest lottery win in the history of the territory. Years later, townsfolk were still telling me the story. Visit the Discovery Store, the only shop in town, and cross your fingers for a repeat!
Where to stay
Faro Valley View B&B — This B&B's rates vary with the seasons but never go higher than around $100 CAD in peak season (in winter, rates are about half that). Satellite TV, Wi-Fi, and snacks are all included in the price.
Airbnb — While Airbnb hosts are few and far between in this part of the Yukon, I suggest checking out this hidden gem outside of Faro. An off-the-grid cabin situated in true wilderness, this rustic stay offers homemade baked goods, canoe rentals, and even a vegetable garden to eat from.
Day 12: Watson Lake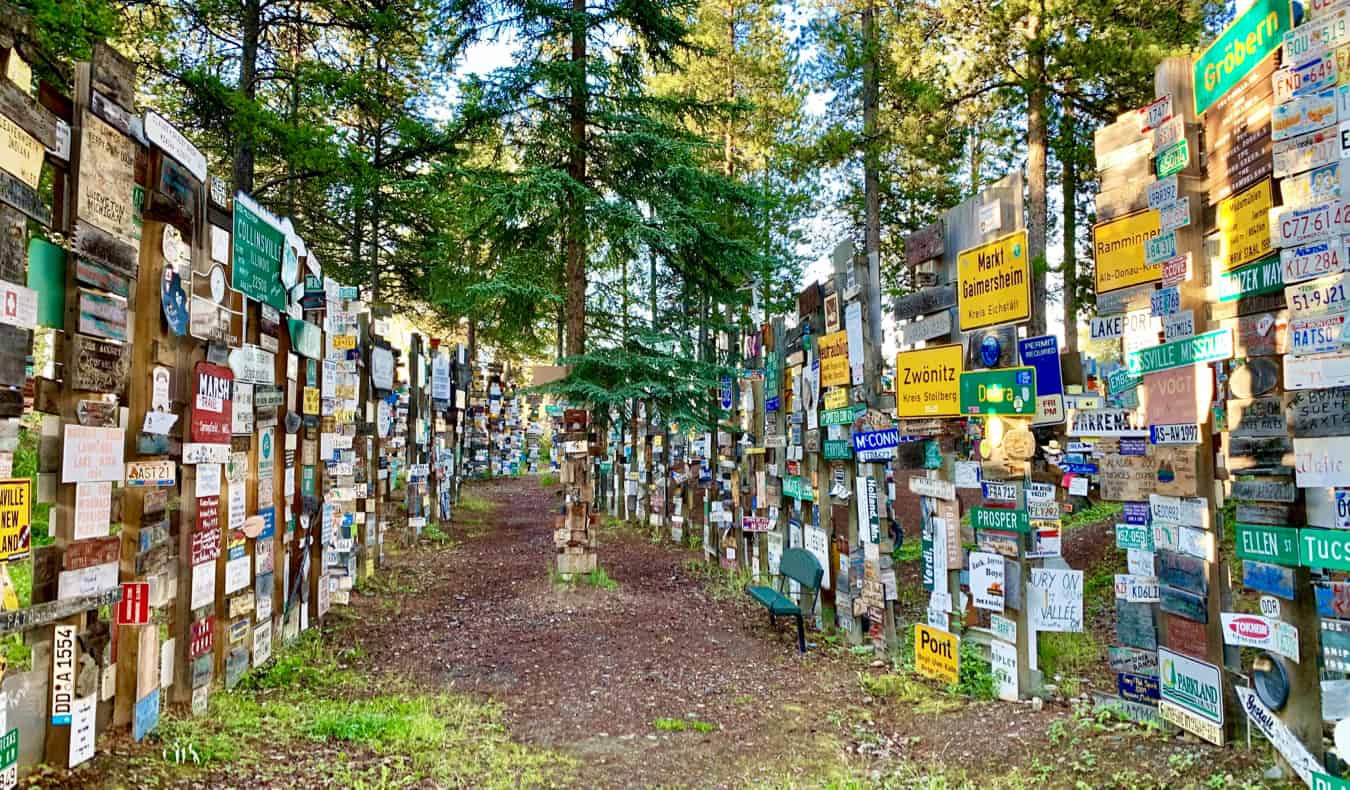 After conquering the remaining five hours of Campbell Highway between Faro and the Alaska Highway, return to pavement once and for all in Watson Lake, a small settlement just north of the British Columbia border. While this remote shred of civilization is hardly bustling, it's the ideal place to recharge with a warm bed, decent cell phone reception, and a good meal (like the best Chinese food in the Yukon — trust me, I tried almost all of them). Check out some of these attractions in the region:
Cross the Ross River Suspension Bridge — Built in the 1940s to support the ill-fated Canol Pipeline, this wooden suspension bridge towers over one of the only other towns on the Campbell Highway. Here, the only signs of human civilization are the rusting hulks of trucks and cranes once used to build the pipeline. Required listening: "Canol Road" by legendary Canadian folk singer Stan Rogers.
Learn about the Northern Lights — In the winter, Watson Lake is one of the most popular places in the territory to view the aurora borealis. But whether or not you're around to see them in the sky, you can learn about this dazzling phenomenon year-round at the local Northern Lights Centre.
Wander the Sign Post Forest — Any local will tell you, this is the town's best attraction. Started by a homesick soldier who first posted a sign pointing to his hometown in Illinois, this literal forest has grown to include tens of thousands of road signs, license plates, and other markers from around the world. As a world traveler and license plate collector, this was my version of heaven.
Add a sign — It's not just permitted to leave your mark on the Sign Post Forest, it's encouraged! Whether you bring a souvenir sign from home or create your own at the visitor center's small sign-making station, travelers passing through are the ones who keep this attraction growing.
Where to stay
Air Force Lodge — Located in refurbished World War II barracks, this hotel offers one of the best deals in town, with reasonably priced private rooms (most have shared bathrooms).
Stampeder's B&B — This B&B is located in the heart of town and is within walking distance of all shops, restaurants, and attractions.
Days 13–15: Whitehorse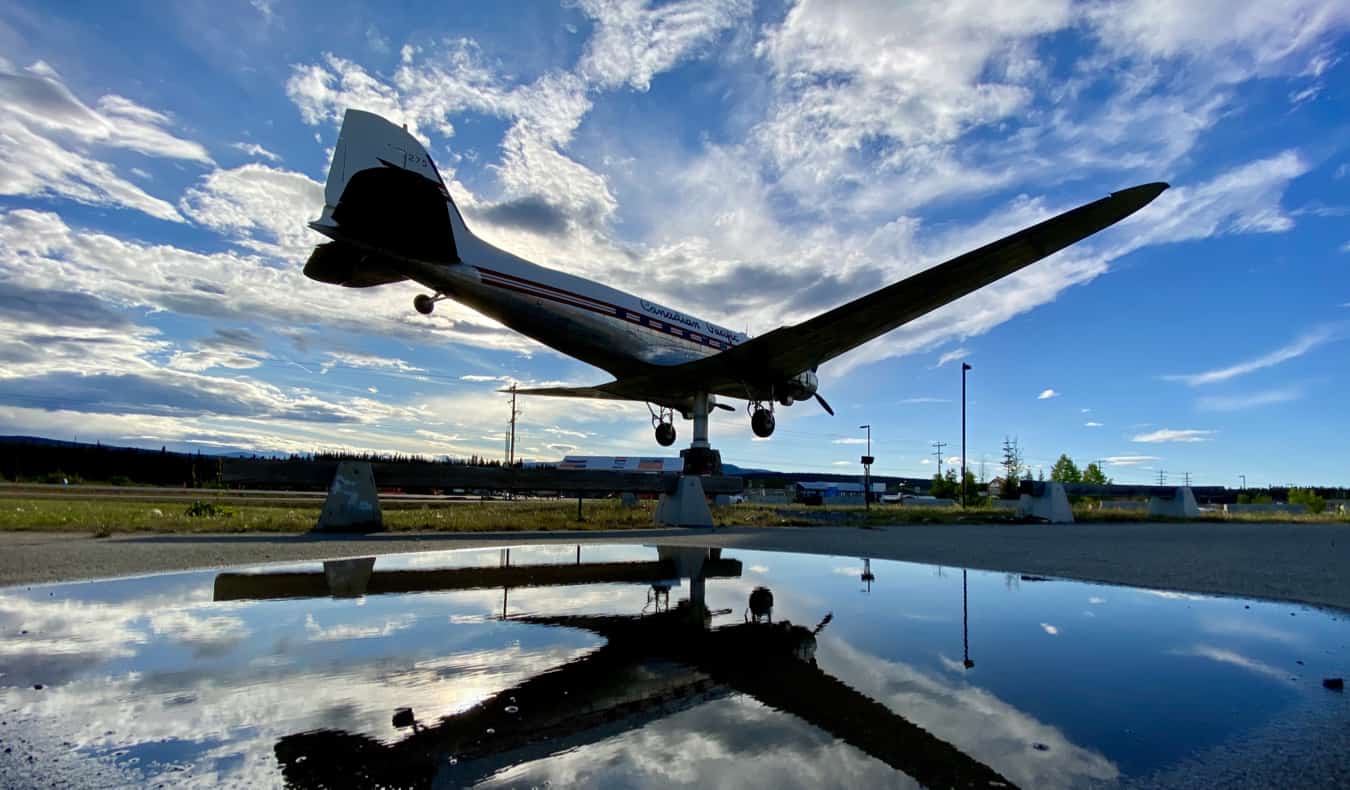 Following nearly two weeks on the road in the Klondike, it's now time for one last ride down the winding Alaska Highway and a return to Whitehorse. To complete your northern journey, here are a few things to see on the route and what to do once you're back in town:
Visit the George Johnston Museum — Located on the shores of Teslin Lake, about halfway between Watson Lake and Whitehorse, this small-town museum focuses on the lives of the local Tlingit Indigenous people and is highly informative.
Swim in the Takhini Hot Pools — These steaming hot springs have been in operation for over a hundred years, warming locals and tourists alike in chilly Whitehorse. If you visit on a day when the temperature is at least -20°C, be sure to enter the Hair Freezing Contest for a chance to win $2,000 CAD.
Take a day trip to Carcross — This is where at age 7 I first laid eyes on the Yukon. With some time to spare, take a trip to this quaint town 45 minutes south of Whitehorse. The terminus of the scenic White Pass & Yukon Railroad that connects to the Alaskan coast, Carcross also lays claim to the oldest store in the Yukon and a patch of sand dunes billed as the world's northernmost desert.
Drink at the Yukon Brewing Company — In the world of craft brews, the Yukon Brewing Company is known as one of the most prolific brands in Canada's north. Ales, lagers, and IPAs are all on offer at this famous Whitehorse brewery.
Where to stay
Four Seasons B&B — In the heart of Whitehorse's trendy Riverdale neighborhood, this beautiful bed-and-breakfast offers 10% nightly discounts on longer bookings. Note: In the high season, it requires a two-night minimum stay.
Hot Springs Hostel — This year-round hostel is located next to the Takhini Hot Pools and guests get 20% off.
***
This two-week itinerary covers almost all the Yukon has to offer in a reasonable amount of time, but, for the true outdoorsman or dedicated explorer, there is much more than can be seen with an additional week: Canada's highest mountain in Kluane National Park, a perfectly preserved mining town at Keno City, and the scenic White Pass & Yukon Railroad into Alaska, just to name a few.
Yukon is one of the least explored and most underrated parts of Canada. It's the perfect place for a road trip, to get away from the crowds, and to get closer to nature. Enjoy!
Ethan Jakob Craft is a journalist, dual American-Canadian citizen, and lifelong traveler who visited all 50 U.S. states before he could legally have a beer in any of them. Recent trips have taken him to the Arctic Circle, Mexico, Morocco, and the Azores in his long-term quest to visit every corner of the globe. Ethan is currently based in Toronto, Canada.
Book Your Trip to Canada: Logistical Tips and Tricks
Book Your Flight
Find a cheap flight by using Skyscanner or Momondo. They are my two favorite search engines because they search websites and airlines around the globe so you always know no stone is left unturned.
Book Your Accommodation
You can book your hostel with Hostelworld. If you want to stay elsewhere, use Booking.com as they consistently return the cheapest rates for guesthouses and cheap hotels.
Don't Forget Travel Insurance
Travel insurance will protect you against illness, injury, theft, and cancellations. It's comprehensive protection in case anything goes wrong. I never go on a trip without it as I've had to use it many times in the past. I've been using World Nomads for ten years. My favorite companies that offer the best service and value are:
Looking for the best companies to save money with?
Check out my resource page for the best companies to use when you travel! I list all the ones I use to save money when I travel – and I think will help you too!gho
Want More Information on Canada?
Be sure to visit our robust destination guide on Canada for even more planning tips!
Photo credit: 6 – Susan Drury
The post How to Road Trip the Yukon on a Budget appeared first on Nomadic Matt's Travel Site.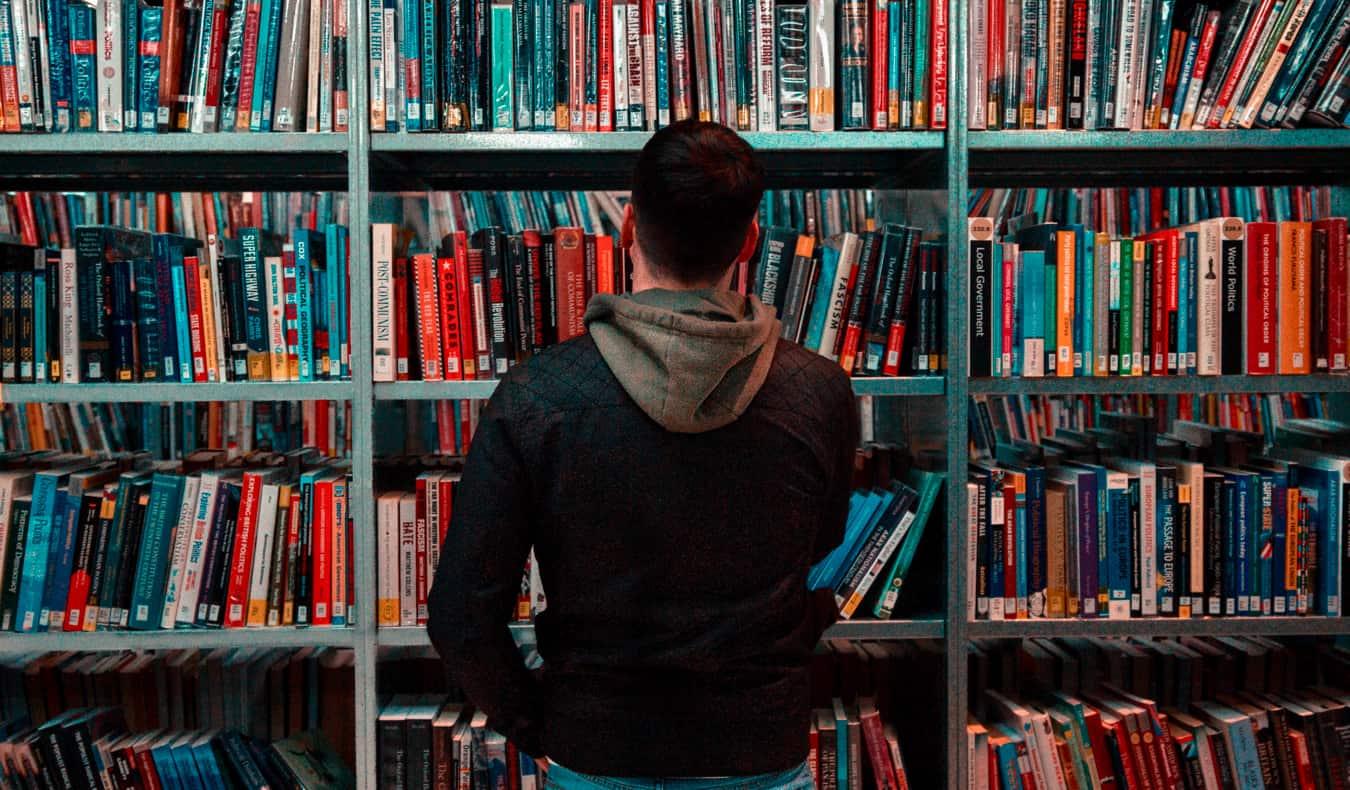 Posted: 11/2/20 | November 2nd, 2020
Hey all! Just a quick post today about some exciting news:
We're starting a virtual book club!
While we already have a monthly "book club" of sorts in which I send out suggested reads, starting this month, we're going pick a particular book and then discuss through a virtual event on The Nomadic Network.
But here's the kicker: the author is going to be part of our discussion!
One of the benefits of being a bad writer is that I know a lot of other writers.
And writers like talking about their books.
So, every month, I'm going to tap my writing network and we're going to have an hour-long discussion with the author about their book. (The talks will be free but, since the authors are giving an hour of their time, we hope you'll have bought and read their book!)
And we'll be giving away signed copies to a few lucky attendees!
The subjects of the books we choose will mostly be about travel but also touch on self-development, psychology, and entrepreneurship.
Our first book of the month kicks off with…..me!
We're going to be reading Ten Years a Nomad. This book is about my ten years backpacking the world and the lessons I learned along the way. On the discussion call next month, I'll talk about why I wrote it, the tons of versions it went through, and who I drew inspiration from. I'll also take your questions on the book.
The talk will be on December 2nd at 12pm EST.
You can click here to register for the event. (It's free!)
(Going forward, all our book club discussions will be the first Wednesday of every month.)
You can get the book online at the following places:
You can also find the book here:
And in Canada:
And in the UK and Australia:
However, if you are in the United States, I strongly encourage you to get the book from Bookshop, which ensures your book is ordered and shipped from an independent bookstore. Now, more than ever, small bookstores need our support!
The team and I are super excited about this! We've already lined up authors for our next three events!!! I think having the authors discussing their books is something unique.
So that's it!
Grab the book and I'll see you on December 2nd!
If you have any questions, drop them in the comments.
– Matt
(function(d){var s=d.createElement('script');s.type='text/javascript';s.src='https://a.omappapi.com/app/js/api.min.js';s.async=true;s.dataset.campaign='rwu0vxsug5jbk3ampkjw';s.dataset.user='8268′;d.getElementsByTagName('head')[0].appendChild(s);})(document);
The post NEW: Our NEW Monthly Book Club! appeared first on Nomadic Matt's Travel Site.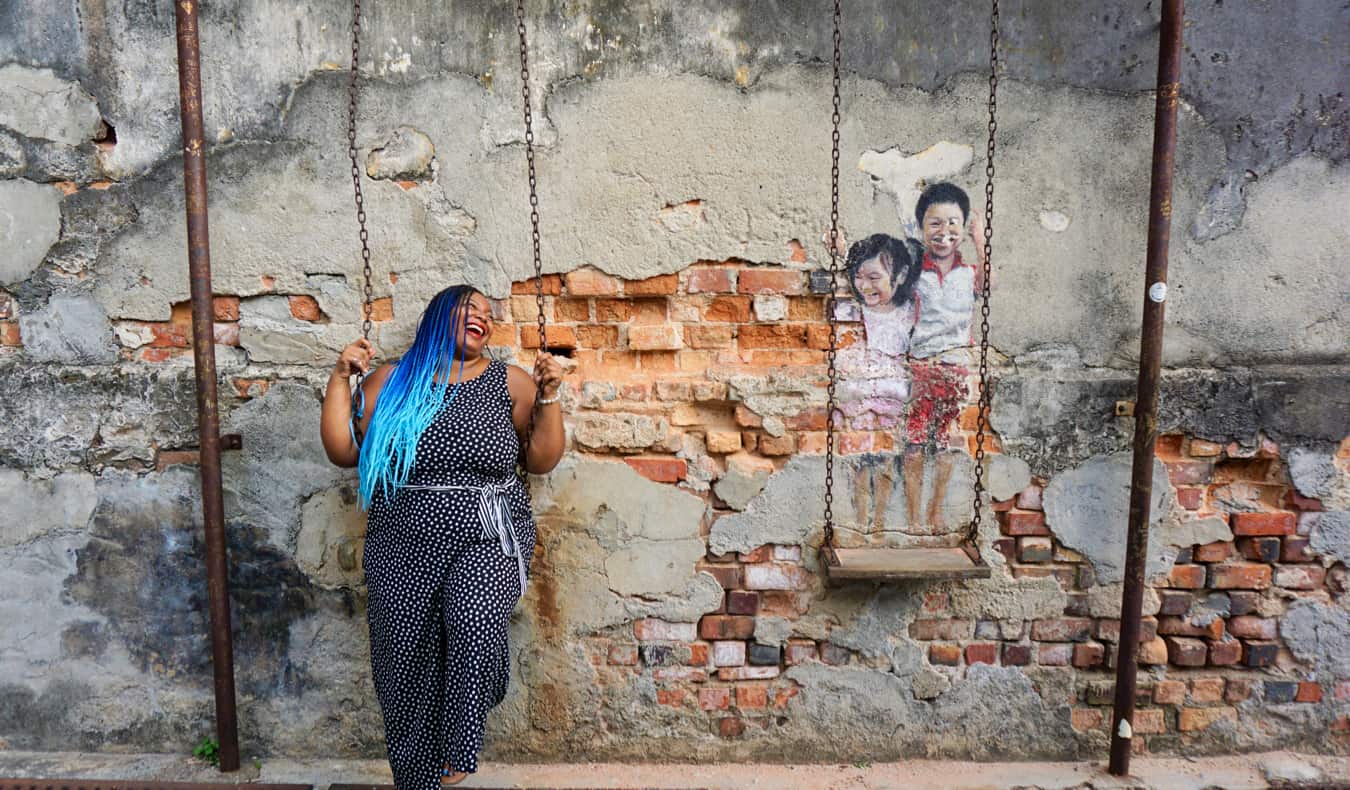 Posted: 10/26/2020 | October 26th, 2020
In this guest post, blogger and writer Annette Richmond shares her experiences and reflections as a plus-size black solo female traveler. I've known Annette for years and she an incredible person who has spoken at TravelCon on subjects relating to blogging and diversity. She's one of my favorite humans and I'm stoked to have her writing for us today!
Every day, I learn more about intersectionality and how my identity as a fat Black woman impacts the way I travel. Intersectionality is a framework for conceptualizing a person, group of people, or social problem as affected by multiple forms of oppression. It takes into account people's overlapping identities (age, race, sex, disability, religion, class, sexuality, appearance, etc.) and experiences in order to understand the complexity of prejudices they face.
We all have barriers to navigate and traveling the world solo has brought me face to face with many of mine. The discrimination I experience depends on where I am. When I'm in Asia, I'm discriminated against because of my size more than anything else while, in my home country of the United States, I'm discriminated against because of the color of my skin more than the size of my body.
I grew up in San Francisco as the oldest of three and only girl in a lower-middle-class, single-parent home. Family vacations weren't a thing for us, but my best friend and her family would drive down to LA every year to go discount back-to-school shopping. In high school, I buckled up and went with them on the road trip — and I was hooked.
Senior year I was the only one in my group of friends that had saved enough money to go on a snowboarding trip to Bend, Oregon. I worked part-time in the shoe department of a major retailer, which meant commission. I saved up for months for that trip; to me, it was a celebration of my accomplishment as the first person in my family to graduate from high school.
That senior-year snowboarding trip was my first solo adventure. Since my friends decided not to go and it wasn't planned by our school, I was one of the very few Black people there — it was mostly white teens from affluent families.
I was bunked in a two-bedroom apartment with three other girls. I remember having a great time. I also remember feeling different. Not only because I was Black but because I was bigger than the other girls.
And each of those things that make me me – gender, weight, and ethnicity – have all impacted how I travel.
Traveling alone as a woman can be risky (though not overwhelmingly more dangerous than being solo in San Francisco. Or any other big city for that matter). The reality is we need to be vigilant as we travel.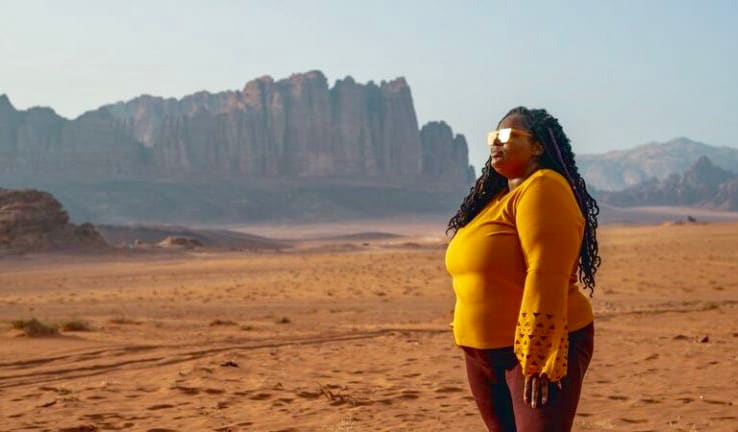 Once, I was walking with a friend one night in Phnom Penh, Cambodia, and saw a group of men on mototaxis waiting for customers. I felt them staring at us and heard them joking and giggling. As we passed by, one of the men grabbed my right breast. As I went to grab his hand, he sped off on his motorbike, leaving his friends to stare and laugh. I felt both humiliated and violated.
Another time, a man exposed himself and followed me in Kuala Lumpur, Malaysia. I heard someone making kissing noises behind me, and when I turned to look, an older Asian man was approaching me, asking "How much?" I shook my head no and quickened my pace. Soon I heard the kissy noises again; when I turned back to give him a disapproving look, I saw that he had unzipped his pants and was playing with himself in broad daylight. I was shocked and full of fear, but my first thought was to grab my pepper spray.
As he approached the stoplight, my pepper spray was in hand. I felt him approaching, then he stepped into the intersection and crossed on the red light. I was relieved that things didn't escalate further and happy that I had brought my blinged-out pepper spray with me.
As a Black woman, there are the added issues that strangers will often come up to me and touch my hair or my skin, which I hate. A child even asked if I was made from chocolate! Some countries are more Black-friendly than others. But, in countries where citizens aren't as exposed to black people, there's a fascination that makes me feel like a prop.
For example, I had a group of Asian tourists line up to take photos with me at a pagoda in Myanmar. (Additionally, a European family took photos with me at the Louvre in Paris. They got my attention by yelling "Yo, yo, yo!")
I generally agree to taking photos with people if I have time, feel cute, and am respected. However, I know it's not my obligation to take photos with people who've never met a Black person before so it's always interesting when they get upset with me for refusing to do so.
The intersecting lines quickly start to blur when it comes to being a Black woman, especially in Southeast Asia, where I'm thought of as either a celebrity or a prostitute. Walking through markets in Malaysia, Bali, and Bangkok, I've been called Nicki Minaj, Beyoncé, and Oprah. (Do you think every old white man is called Trump or Biden while shopping in Asia?)
Then there's my weight. I refused to wait to lose weight before I gave myself permission to see the world. This is me and I didn't want to conform to any stereotypes of beauty. Although weight can be a barrier to travel, I've been able to come up with creative solutions and find tools to make it more accessible.
The first hurdle is the airplane. As a fat traveler, you have to determine if you'll need to book one or more seats. If you do need more than one seat, have you budgeted for that? (Right now, the only US airline offering a free second seat for fat travelers is Southwest. Look into its Customer of Size Policy for details.)
I don't generally need a second seat when flying, but depending on the airline, I might need a seat belt extender. On a flight to Bali, I was fighting to get my seat belt on, in the middle seat no less. The man in the window seat was watching me the entire time, growing more impatient by the second. Finally, he said, "That's not going to fit," to which I responded, "Can you please focus on yourself and let me focus on my seat belt?"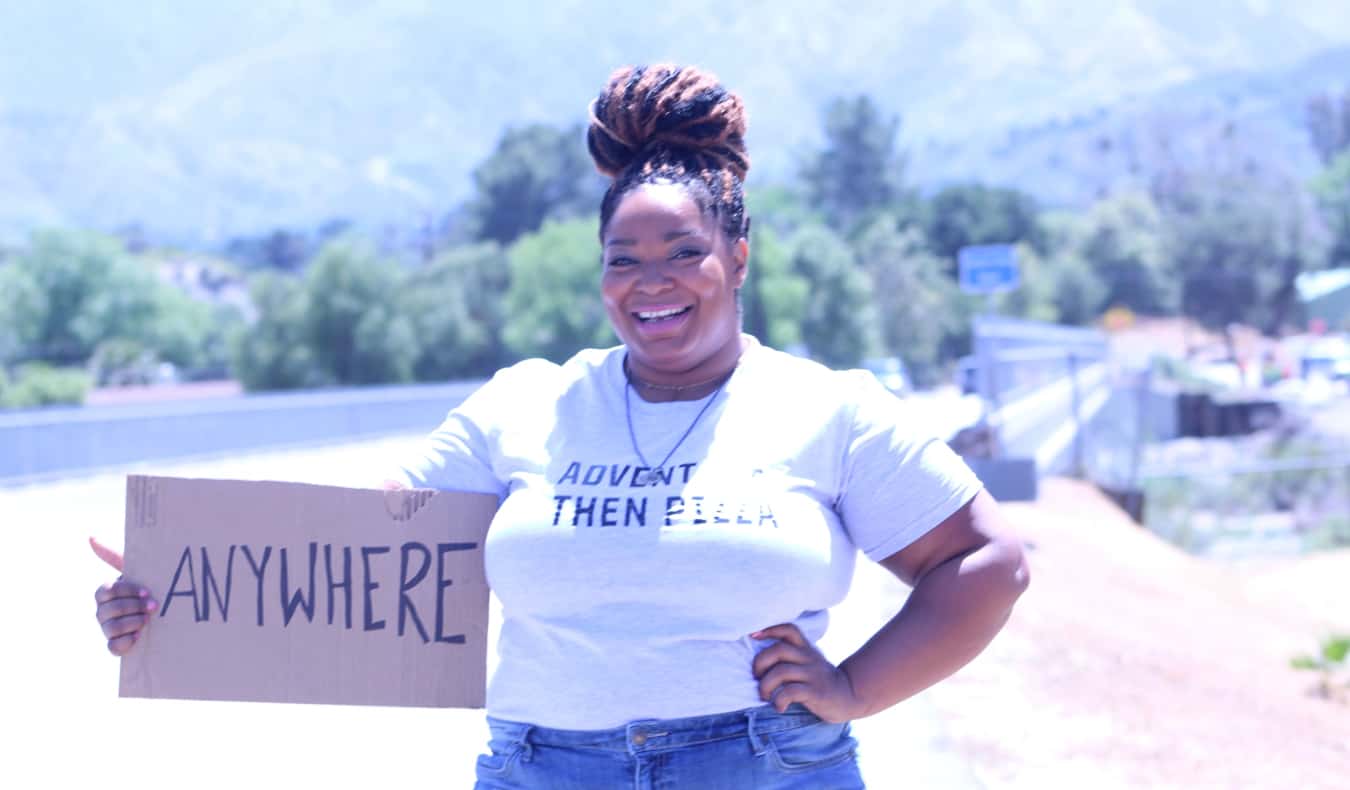 Two seconds later the seat belt clicked into place and the man next to me proceeded to take off his shoes and manspread.
Not many people know about the rules of the emergency exit row. One of them is that you're not allowed to sit there if you're using a seat belt extender. On a flight from Malaysia to Bangkok, I was given the window seat in an exit row.
As I was getting my headphones out and putting my gum away, I noticed the flight staff looking and pointing at me. Mind you, my seat belt was comfortably buckled without an extender, and my possessions were safely stowed above me. One of the flight attendants told me that it wasn't safe for me to sit in the exit row and that I would have to move. I immediately knew that he had profiled me and assumed I was too fat to help in case of an emergency. Instead of getting into an argument or challenging his wrong assumption, I just moved to a window seat a few rows back.
As a fat traveler, there are so many more things to consider when planning a trip. If you're doing water sports, is there a life vest that fits?
Planning on scuba diving? Is there a wetsuit in your size, or do you need to bring your own?
Did you know there's a weight limit for horseback riding and zip-lining?
What's the weight limit on the kayak you're renting for the day?
All of these factors impact fat travelers, and not knowing the answers to these questions can lead to frustration and feelings of humiliation.
Something as simple as sitting down for dinner or eating in public can be anxiety-inducing for a fat traveler. Responses to fatness vary in different places; in Asia, it's culturally acceptable to point, stare, and laugh at fat people. I don't have to tell you how dehumanizing it feels to have strangers in a restaurant monitor everything you put in your mouth. It can sometimes be so overwhelming that it feels safer to order room service or get takeout.
On the other hand, one of my most memorable positive experiences was at a small stall-restaurant at Chatuchak Market in Bangkok. As I waited to be seated, the hostess made a hand gesture. She held her hands out wide, which I took as her saying that I was fat. I gave her a thumbs-up and waited to be seated. When she began seating people who had arrived after me, I got annoyed. I was on the verge of jumping ship when she walked over and grabbed a wooden chair that another customer had just gotten up from. She pulled it up to a table, called me over, and made the hand gesture again.
At that moment, I realized that she had waited to get me a more stable chair. She didn't want me to risk the humiliation of sitting in one of the plastic chairs and breaking it. I will always be grateful for her kindness.
My intersecting identities as a fat Black woman impacts the way I view the world and how the world views me. Each day, I am challenging beliefs and smashing stereotypes, all while being as open and authentic as I can be. I have nothing to prove and no one to impress. Just more layers of my identity to be revealed.
Annette Richmond is an award-winning content creator, writer, advocate, and public speaker. She runs the blog From Annette With Love and is the creator of the body-positive travel community Fat Girls Traveling, the Editor-in-Chief of Fat Girls Guide, and the host of the annual fat positive Fat Camp. She's also been featured in Conde Nast Traveler, Teen Vogue. NBC, Forbes. O Magazine, and more. You can follow her on Instagram as well.
Book Your Trip: Logistical Tips and Tricks
Book Your Flight
Find a cheap flight by using Skyscanner or Momondo. They are my two favorite search engines because they search websites and airlines around the globe so you always know no stone is left unturned.
Book Your Accommodation
You can book your hostel with Hostelworld. If you want to stay elsewhere, use Booking.com as they consistently return the cheapest rates for guesthouses and cheap hotels.
Don't Forget Travel Insurance
Travel insurance will protect you against illness, injury, theft, and cancellations. It's comprehensive protection in case anything goes wrong. I never go on a trip without it as I've had to use it many times in the past. I've been using World Nomads for ten years.
My favorite companies that offer the best service and value are:
Looking for the best companies to save money with?
Check out my resource page for the best companies to use when you travel! I list all the ones I use to save money when I travel — and I think will help you too!
The post What It's Like Traveling as a Plus-Sized, Black Solo Female Traveler appeared first on Nomadic Matt's Travel Site.
Along with the beaches La Jolla gives the San Diego area, it also has some very nice caves. The caves of La Jolla are great for tours, exploring, or anyone wanting to see the best of La Jolla.
Carved into the sandstone cliffs of La Jolla, there are seven caves. Most of the time, you can visit any seven of these caves by sea kayak. Although all but one are accessible by foot, you should be very carefully when minus tides sweep the area.
The Sunny Jim Cave is one of the most popular and well known caves of La Jolla. You can enter through the Cave Store by paying a small fee. There are 145 steep steps to get through the cave, which is great for exploring and seeing the area.
The cave store can tell you many things about the caves, including tours. If you plan to visit the La Jolla area of San Diego, the caves can be a great place to explore. Those of you who have kids coming along for the trip, should remember to be very careful – as the caves provide a lot of beauty – they can also provide a lot of danger as well.
Since 1948, the Maritime Museum located in San Diego has served the city in many big ways. The museum here is dedicated to collecting and preserving the rich maritime heritage and historic values of the city – then presenting it to the public.
The biggest attraction to the museum is the historic ships. Here, you'll find five great examples of maritime vessels – Berkeley, Californian, Medea, Pilot, and the Star of India.
All across the museum you can find many examples of Naval technology and ships of the past. The guides at the Maritime Museum are very friendly and helpful, willing to answer any question that you may have.
Nearby to the museum, you have several attractions and things to see. With the museum being in the downtown area of San Diego, it's very close to some of the other things that San Diego is so very well known for.
If you happen to be on vacation in San Diego, make sure you visit the Maritime Museum. Kids love to see the ships on display, as well as the USS Midway Aircraft Carrier Museum, which is a short walk from the Maritime Museum.
The San Diego Zoo, located in San Diego California is one of the best zoo's in the United States. Serving as one of the main reasons to visit San Diego, the zoo houses nearly 4,000 animals. Also in the zoo, are the infamous pandas, one of the main reasons as to why the zoo is so popular.
Among the many animals you'll find here are the pandas, giraffes, tigers, and basically any other animal that you can think of. The animals themselves have plenty of room to run and play, giving you all the space you need to view them in their active environment and best of all – while they are at their best.
Anytime you plan to visit San Diego, you should make sure you visit the zoo. Kids simply adore the animals here, while parents find them adorable. Even if you have never been to a zoo before, the San Diego Zoo can more than change your outlook.
Once you enter the zoo, you can check out the animals, get some food, or just walk around. The park is enormous in size, having everything you can basically think of when it comes to animals. Once you visit, you may find yourself hating time when it comes time to leave!
The Seaport Village of San Diego combines the best of waterfront shopping, dining, and overall family entertainment. While the Marina Park is here as well, nearby is the small but popular San Diego public park.
In Seaport Village you'll find 14 acres of pleasure with more than 75 shops and galleries, restaurants, and eateries on the sidewalk. Even though the area is primarily targeted towards visitors, locals get the best of the best with the restaurants and their out of town company.
The San Diego Pier Cafe is also here, which is one of the best known restaurants in the area. Located on the bay, the cafe provides seafood with breathtaking views.
The Seaport village provides a great place to view Coronado and the Coronado Bridge, as it overlooks the harbor. Just a short stroll from the village, you have the San Diego Convention Center, Petco Park, and the Gaslamp Quarter.
Providing plenty to do and plenty of things to see nearby, Seaport Village has it all going on. A visit here is unlike any other, as the city of San Diego will always have something unique to offer you and your entire family.
Mission Bay Park in San Diego is the largest facility of its kind, offering over 4,600 acres with free recreational activities for visitors. What was once a sprawling swamp in the 1960's, was dredged and transformed into what is now a great attraction to the San Diego area.
Across the 27 miles of bayfront, water activities are all over the place here. For beach lovers, there are 17 miles of oceanfront property, including Mission Beach and Pacific Beach. There are separate areas as well, for swimming, fishing, boating, and even sailing. Mission Park also offers free events such as volleyball, jetski, and many different types of competitions and exhibitions.
For the children, Mission Bay Park offers a playground area with plenty of other things to do as well. Mission Park has always been an attraction, one that keeps people coming back for more.
For those living in the area, Mission Bay in San Diego provides plenty of things to do. The location is great, with something always going on. If you plan to visit San Diego in the near future – make sure you drop by Mission Bay and see what makes this area one of the best in the world.
Located at the Northwest end of San Diego, within the city limits, Torrey Pines offers you over 2000 wild and natural acres. Along with the trees of Torrey Pines, there's a visitor center, miles and miles of trails, miles of beaches, and a lagoon that's a vital area for seabirds.
The State Preserve of Torrey Pines not only preserves the trees but the salt marshes and waterfowl refuges as well. The Torrey Pines State Beach here stretches nearly four miles, from Del Mar to the sandstone cliffs of Torrey Pines Mesa.
Also found here is Blacks Beach, located at the base of the 300 foot cliffs. The cliffs here offer paragliding, remote control gliding, and even hang gliding. At the north end of Blacks Beach, clothing is optional. To be on the safe side, always read the signs and follow the rules of the beach.
With plenty to offer, Torrey Pines State Preserve is a great addition to the already vast area of San Diego. You can visit here from San Diego, as it's a short drive away. Torrey Pines has great beaches and plenty of trails for you to see. As a family trip, Torrey Pines is a great place to spend the afternoon on your once in a lifetime vacation.
Little Italy in San Diego is rapidly evolving as an inner city neighborhood that's perfect to live in, shop, dine, or visit. The Little Italy offers great views of the bay, art and cultural festivities, and great food.
The nearby street sign for Little Italy, created in 1999, signals that the area is the heart and soul of San Diego's inner community. The sign is truly a signal of peace, and can be found on India Street between Date and Fir.
Each and every year, there are nearly a dozen festivals held in Little Italy. There are tons of holiday celebrations, music, and art expo's. During this time, Little Italy comes alive like never before.
The heart of Little Italy is India Street. This street has plenty of outdoor cafes, restaurants, galleries, and specialty shops. Nearby Amici Park offers a playground for the Washington Elementary School and a community park that's complete with a bocce ball court.
Bigger than the Little Italy neighborhoods in New York and San Francisco, San Diego's Little Italy keeps getting bigger and better. The waterfront district of San Diego is bouncing back with Little Italy, proving to be a great place for tourist attraction.